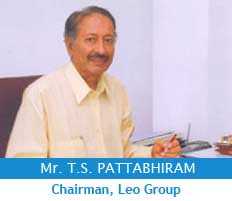 Established in the year 1974, ours is a family concern owned by three brothers, Mr. T.S. Pattabhiram, B. Tech (IIT, MADRAS), MBA (Indian Institute of Sciences, Bangalore) and Mr. T.S. Anantharaman, B. Com., FCA are fully involved in the management of the group. The third brother Mr. T.S. Rajaram, also a Chartered Accountant, is abroad.

The Leo Group is a member of diversified group of companies and this group is engaged in the storage and distribution of pharmaceutical products both within Trichur District as well as throughout the state of Kerala.

Value of goods and services handled us for financial year 2014-15 exceeds Rs. 300 Crores and we are likely to continue our growth rate of 15-18% per annum in the coming financial years. The Leo group currently employs over 300 staff members in 6 geographical locations. While our current operations are predominantly in the Pharmaceutical sector, we are looking out to exploit our in-depth knowledge in the field of storage and distribution to expand into other areas. Logistics in the pharma sector is highly regulated and disciplined. It also involves high levels of investment and storage space. We are therefore confident that we can handle any volume and future growth both financially and in terms of warehouse space. In the past, we have received numerous awards and accolades for excellence in operations from our principal companies. We are confident of upholding the high standards in all our future expansions as well. Other than logistics, our sister concern is a member of the National Stock Exchange and the Bombay Stock Exchange. The promoters also own rubber plantation in Trichur district.